Humor
---
Environmental Clearcut - Forest fire. 
PETA - People Eating Tasty Animals 
Hyper bole: A very nervous tree trunk!
"I have the 'excitability threshold' of a three-toed tree sloth". - Julie Kay Smithson
After interminable agency 'management,' will the new catch phrase be 'critical Babbittat?'
---
Originals!
Deranged: What a pot or pan is when you remove it from the stovetop.
Urban Reforestation - Paper in several stacks, high enough to be envisioned as urban trees.
Urban Tree - What Gang Green considers all those former trees (paper) to be, when stacked high enough. After five years is considered to be 'old growth' urban tree.
---
Aesopian Language is nothing new.

Those who understand still number but a few.

Starting today,

As I make my way,

I'll be explaining it to YOU.

- Shirley U. Jest, August 20, 2002
---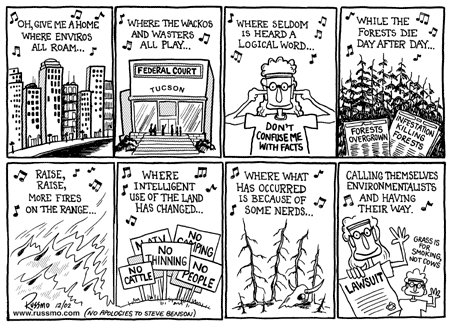 ---
Singing horses -- click on one or all, click again to stop.
http://svt.se/hogafflahage/hogafflaHage_site/Kor/hestekor.html
Reindeer and Santa -- click on one or all, click again to stop.
http://web.icq.com/shockwave/0,,4845,00.swf
---
Last year I replaced several windows in my house. They were the expensive double-insulated, energy-efficient kind. This week I received a call from the contractor complaining that the work has been done for a year and that I had failed to pay for them. Boy, did we go round and round! I told him that no one pulls a fast one on this ole lady, even though I am a senior citizen and a blonde, doesn't mean that I am automatically stupid! I proceeded to tell him just what his salesman told me last year: "In one year, they will pay for themselves." - Unknown (but greatly appreciated!)
---